With as many as nine live presentations, Skoltech researchers stole the show at the 13th International Conference on Key Engineering Materials (ICKEM 2023) hosted by Istanbul University.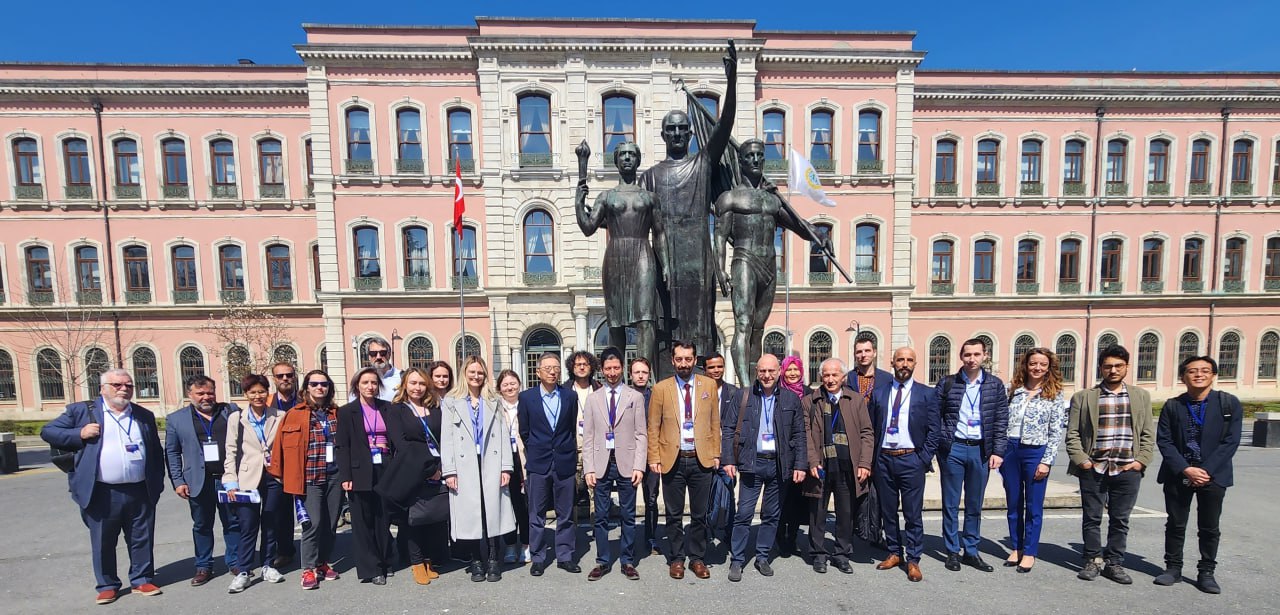 Professor Alexander Korsunsky who serves as the Chair of this conference series gave the opening keynote lecture entitled "Operando Micromechanics of Materials", summarizing "the systematic use of operando studies to characterize materials deformation at multiple scales reaching down to (sub)micron resolution."
Skoltech students, engineers and researchers gave nine presentations and participated in onsite sessions covering topics in structural design, manufacturing, applied mechanics, functional materials and biomedical materials and alloys, electrochemistry and applied catalysis, advanced building materials and flame retardant materials. Skoltech members also took active part in online panel discussions of metallic materials, metal working and metal matrix composites.
Researcher Julijana Cvjetinovic of the Photonics Center received the Best Presentation Award for her talk on "The nanomechanics of diatom silica exoskeletons". 
 Among other conference organizers were Alexey Salimon, Senior research engineer of the Engineering Center and the program chair of the conference, Associate Professor Henni Ouerdane of the Engineering Center and Associate Professor Alexander Safonov of the Materials Center.
On the sidelines of the conference Professor Alexander Korsunsky met with Prof. Dr. Mahmut AK, the Rector of Istanbul University, to discuss prospective collaborations.
The International Conference on Key Engineering Materials is an annual gathering that provides a unique platform for researchers in the fields of Materials Science and Engineering to share and promote their scientific results and discuss technical challenges and proposed solutions. The conference materials will be published as a special issue in Materials Today: Proceedings by Elsevier. The next conference is planned to be held in the United Arab Emirates in March 2024.
Presenters:
Numerical simulation of the stereolithography process for ceramic 3D printing  - Researcher of the Materials Center

Daniil Egorov

Influence of plate thickness on the results of residual stresses determination by through hole drilling in orthotropic composites of different fiber orientation - 

Eugene Statnik,

PhD student

at HSM lab of the Engineering Center

Topology optimization of rib patterns for freeform composite structure - Engineer of the Materials Center

Anastasiia Moskaleva

 

The nanomechanics of diatom silica exoskeletons - Researcher of the Photonics Center

Julijana Cvjetinovic

Artificial Intelligence analysis of the sterilization effects on the mechanical properties of human cranial bones - MSc student

Iuliia Sadykova

Structure and Electrochemical Behavior of Coatings from Complex Concentrated Alloys Deposited by Metco Triplex Pro-210 gun - Assistant Professor of the Materials Center

Dmitriy Dzhurinskiy

 

Thermal and electrical properties of additive manufactured polymer-boron nitride composite - Research Scientist of the Materials Center

Julia Bondareva

Effect of Al Presence in the CrCoNiFeAl High-Entropy Alloy Synthesized via an In Situ Additive Manufacturing Technique - Researcher of the Materials Center

Yulia Kuzminova

Influence of compressive strain rate on mechanical properties of unidirectional fiber reinforced plastic - Senior Engineer of the Materials Center

Stepan Konev

 
Skoltech co-authors:
Senior Research Scientist of the Materials Center Svyatoslav Chugunov 
Senior Engineer of the Materials Center Oleg Rogozin
Assistant Professor of the Materials Center Dmitry Kolomenskiy
Assistant Professor of the Materials Center Ivan Sergeichev 
Senior Research Scientist of the Energy Center Sergey Luchkin
Professor of the Photonics Center Dmitry Gorin
MSc student Namratha Mulpuri
Engineer of the Materials Center Stanislav Dautov
PhD student Artem Yakimchuk
Research Scientist of the Materials Center Abhishek Babu
Assistant Professor of the Materials Center Stanislav Evlashin
Associate Professor of the Materials Center Igor Shishkovsky